Give the Gift of Buying Local
Cody Bucks are the Cody Country Chamber of Commerce's local gift certificate program. This program is designed to give the user freedom to redeem at any Cody merchant! Many businesses have found that Cody Bucks make perfect gifts and work incentives. Most importantly, the program ensures local spending and helps feed our economy! Each year, we introduce an average of $150,000 in certificates.
Cody Bucks work just like a pre-paid check. Merchants: have the customer sign and print their name and phone number before depositing them in your bank like you would a personal check from your customer.
We offer $10, $20 and $50 denominations for purchase at the Cody Country Chamber of Commerce. There is no service fee or additional charge to purchase. Please allow for a minimum process time of 24 hours for orders over $500 and 48 hours for orders over $1000.  For your convenience, please contact us in advance and we will prepare your order before you arrive.
Have you received Cody Bucks as a gift? If so, remember you must use them within 6 months of the stamped issue date.
For questions and large orders, please contact Liz Stuard (307-587-2777 or admin@codychamber.org).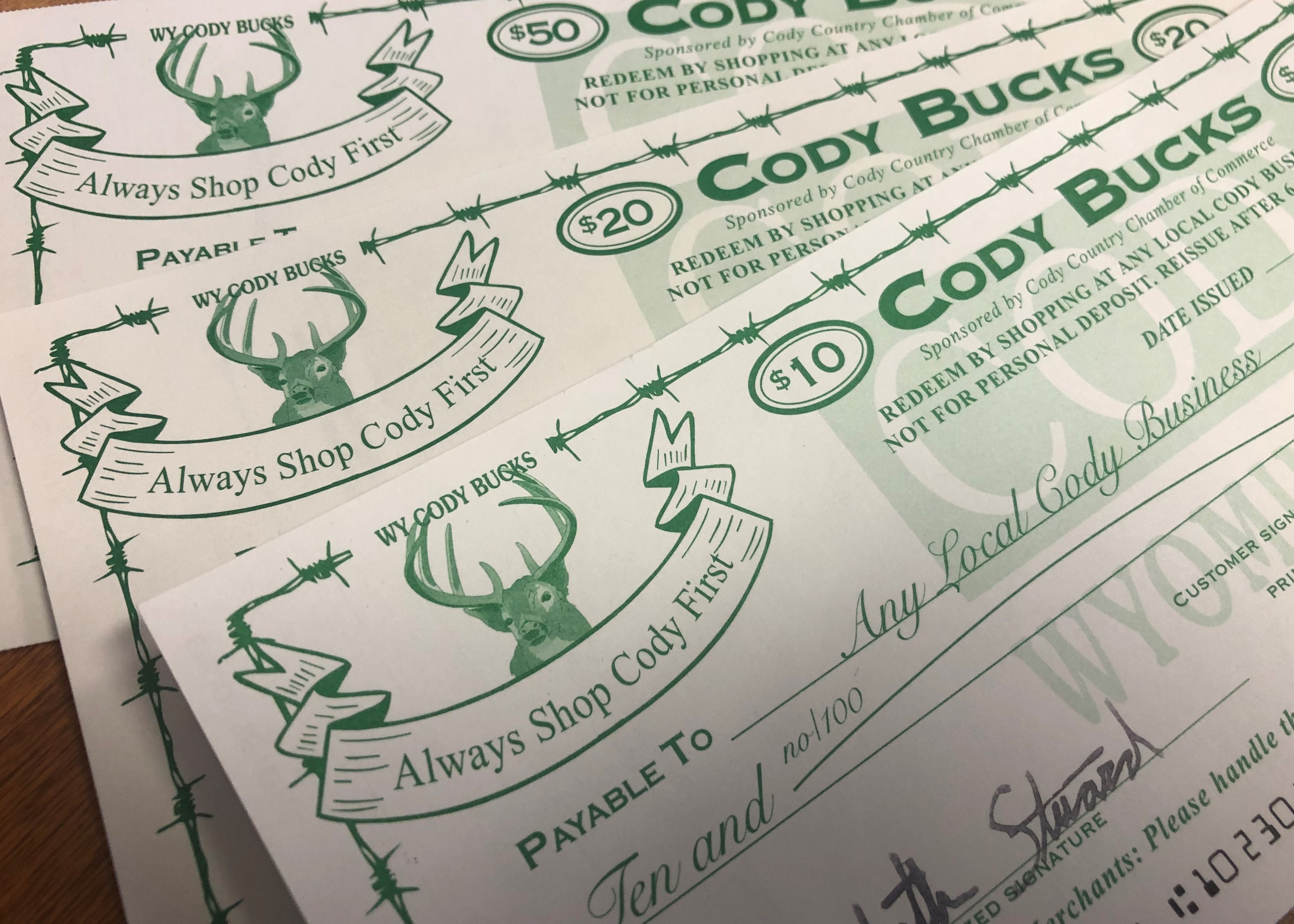 Can I Renew Expired Cody Bucks?
Certificates printed in brown ink, last issued back in June of 2019, are no longer valid. Due to a banking and processing change, we can no longer exchange ANY brown certifcates.
If you have outdated certificate printed in green ink, those are still valid for exchange at any time. If you have green Cody Bucks that have expired, please stop by the Chamber to exchange them. For large quantities, we ask that you contact us in advance, so that we may prepare your exchange prior to your arrival.